For large areas, a robotic lawnmower needs to be particularly powerful and efficient so that it can mow the entire area in as short amount of time as possible, while in a small garden, it needs to be maneuverable. At the same time, the performance must also be right for a compact model. Other additional features are also crucial for easy handling and a high level of operating comfort so lawn care becomes child's play even for an area of 300 m².
Robotic mower for 300 m²
The larger the robotic mower, the more efficient the device works and the faster the work is completed, so you can fully enjoy the tranquility of the garden. At the same time, however, the power consumption increases with performance and the maneuverability decreases. The robotic mower should thus be adapted to a lawn area of 300 m² in order to deliver perfect results.

Simultaneously, a powerful battery with a long operating time guarantees long mowing times before a break at the charging station is necessary. Of course, this should be as short as possible so that the robotic lawnmower can quickly continue and finish its work. Here, modern Li-ion batteries achieve excellent results.

Finally, it is worth mentioning the cutting width. A robotic lawnmower with a cutting width of 18 centimeters is maneuverable enough for an area of 300 m² to reach even winding corners of the lawn, and at the same time is efficient enough to mow the lawn quickly.
Low maintenance due to self-cleaning mowing deck
For you as a garden owner, the purchase of a robotic mower should be advantageous, especially in terms of saving time. After all, you want to enjoy as much free time as possible in the garden and not continue to worry about time-consuming lawn care.
In this regard, it is worthwhile to pay attention when buying a model that is characterized not only by its performance, but also by easy cleaning and maintenance.
An integrated mulch cleaner is a great help here. This ensures that grass residues are removed during mowing and the mowing deck stays cleaner. That means for you, the cleaning effort is reduced to a minimum.
If worn parts can be replaced yourself in just a few minutes with just a few simple steps and without the need for any major tools, you will not only save time but possibly also a trip to the specialist dealer.
Finally, the manufacturer's warranty also contributes to low maintenance requirements. If the robot has a defect, the manufacturer will quickly and easily provide a replacement or repair the device.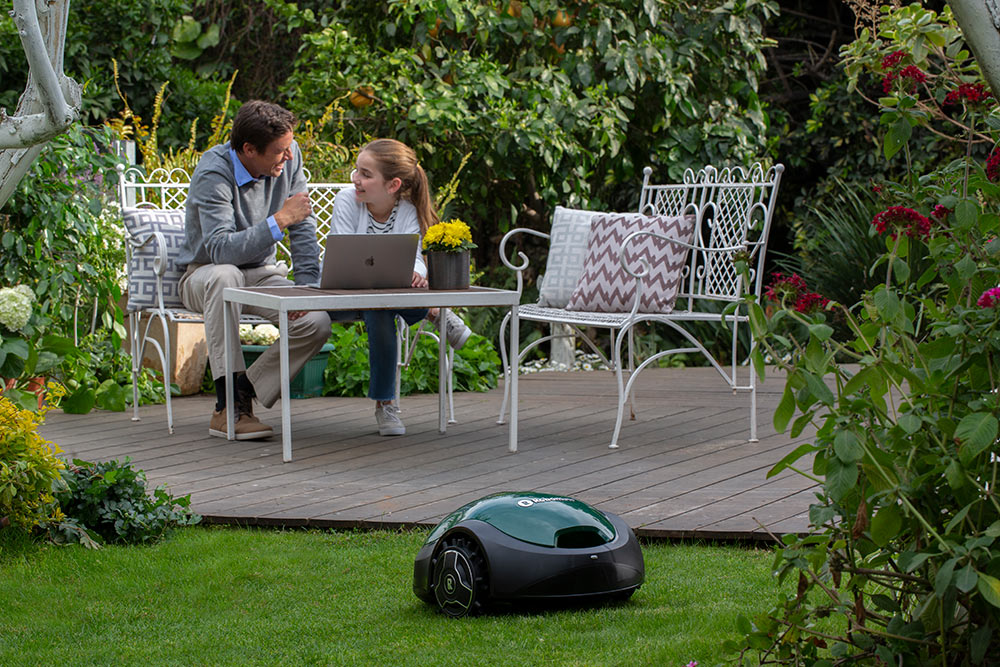 Compact design and low weight
As a rule, robotic mowers for 300 m² are characterized by a compact design and a small cutting width. In addition, a model with a low dead weight is helpful. Ideally, your robotic lawnmower even has a practical handle that allows you to move it to the front yard or carry it to its winter quarters without any effort.
Precise mowing even on uneven terrain
Even the smallest garden is not necessarily characterized as being flat. If the terrain is uneven, this may be reflected in uneven cutting results. Unless, of course, the robotic lawnmower has an oscillating mowing deck that detects every unevenness and ensures perfect and even cutting results.
The same applies to the entire terrain: slopes are always a problem for robotic mowers, and in wet conditions, there is even a risk of slipping on the slope. In this case, it is important to have good traction with wheels that have the thickest possible tread. This gives your robotic lawnmower the perfect grip at all times. Nevertheless, pay attention to the maximum slope height of the robot and measure it in your garden in case of doubt.
Flexibility through variable cutting heights
The ideal lawn height initially depends on the type of lawn. While a lush green ornamental lawn can certainly tolerate lower cutting heights of 2-3 centimeters, the optimum length of a sports and commercial lawn is more like 6 centimeters. If the lawn is exposed to strong sunlight, it should even be a little longer, while mowing before thatching is particularly deep.
Overall, it is thus helpful if your robotic mower offers this flexibility and comes with a wide range of different cutting height settings.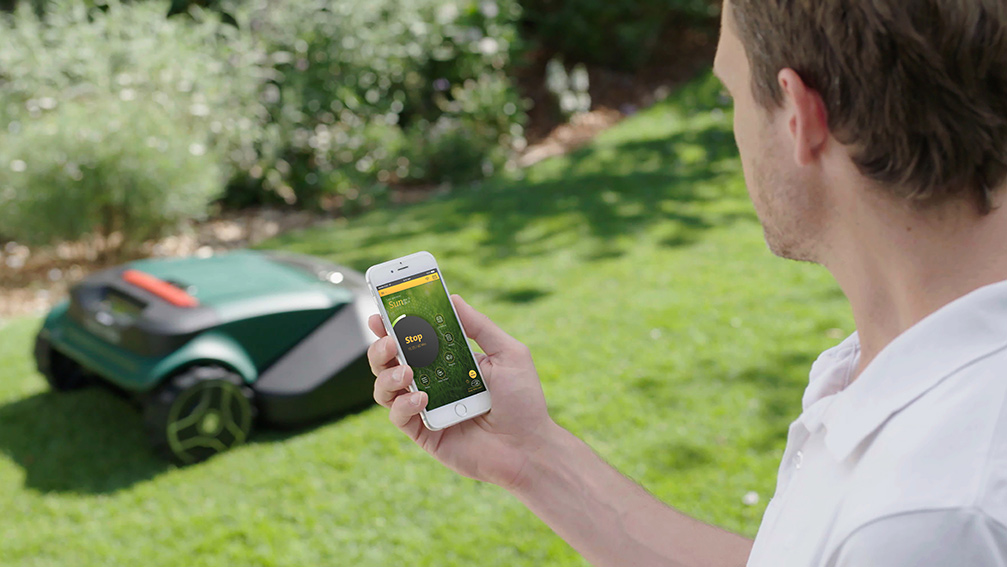 Convenient programming and control
Finally, it is also desirable that activation is quick and easy. Of course, it is practical if materials such as boundary wires and lawn hooks are already included in the delivery and you can start the installation directly. However, even more important is saving time during the programing phase.
A control option via app is particularly simple and convenient. This communicates via Bluetooth with your robotic lawnmower and allows you to program and change the mowing times just as conveniently as a fault diagnosis.
Further features for more comfort
If the basic equipment of a robotic lawnmower for 300 m² is not enough for you, rest assured that we have other models with additional practical features:
useful accessories such as a garage for the robot
a function for mowing separate zones or programing different starting points
particularly low noise levels
theft protection
The following applies: the robotic lawnmower should fit the lawn size. A lawn robot for 300 m² has an advantage on small areas with its maneuverability and at the same time requires little power. Despite the compact design, however, you do not have to accept any restrictions in terms of operation and comfort because there are also powerful models for small areas.