Area performance, cutting width, battery capacity and maximum cutting height, as well as a whole range of other features that a robotic mower brings, are certainly among them. For newcomers who want to purchase a robotic lawnmower for the first time, the specifications can be confusing and make it difficult to find the right model for their garden. Many of the features may be quite practical but do not add any real value to your garden. Furthermore, they may drive up the acquisition costs. So what to look out for?

#1 Easy maintenance thanks to replaceable parts

A robotic mower simplifies lawn care on many levels. Not only is the time spent mowing eliminated, but mulching also reduces the need for fertilizing. In order to invest as little time as possible in the maintenance of the device, robotic mowers are recommended where you can replace the common wear parts such as the blades yourself in just a few minutes without the aid of many different tools. A click system is particularly easy to use, as changing the blades is really child's play.

Incidentally, a mulch remover is similarly helpful, as it significantly reduces the amount of cleaning required by keeping the mowing deck clean directly while mowing, resulting in significantly less grass debris.

#2 Less rework due to edging function

Undoubtedly, A robotic lawnmower provides valuable assistance with lawn care. However, there is often still a strip left at the edge of the lawn that the robotic lawnmower cannot reach. Despite all the time saved, finishing work with the lawn trimmer is usually one of those annoying chores for garden owners.

This can be remedied by robotic lawnmowers that are equipped with a practical edge-cutting function. In these models, the blades extend beyond the wheelbase, so that edges along level lawn borders in particular are mowed completely without the need for any further work. This gives your even more time to enjoy your garden completely.

#3 Quiet as a whisper thanks to low noise levels

Whether you want the robotic lawn mower to work while you are in the garden, or there are neighbors who might be bothered by the noise of a robotic mower: it is convenient to have a robot that is hardly noticeable even when it is operating, as it works as quiet as a whisper. This is especially the case with models with 65 dB or less.

#4 Playfully easy operation via app

Be it the first start-up, changes to the mowing schedule or simply to manually navigate the robotic lawnmower to a separate zone from the lawn chair- the control of the device should be as simple and straight forward as possible. While a clear touch display still requires operation directly on the device, if the function works via an app, it is sufficient for you to be near the robotic lawnmower so that a connection can be established via Bluetooth. If the robotic lawnmower is also equipped with a GSM module, the handling is simplified even further. You can comfortably reprogram the robot regardless of location and time, even from the beach on your vacation.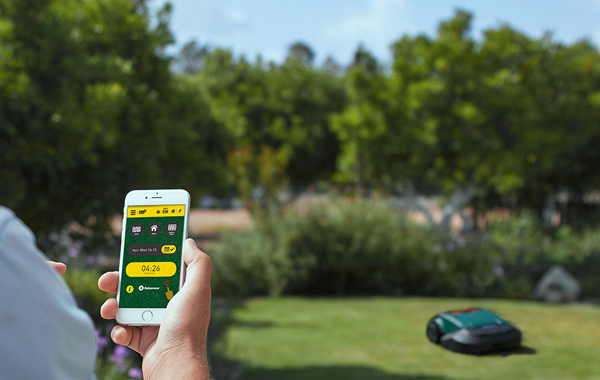 #5 Maximum flexibility thanks to variable cutting heights

The first cut in the spring after winter or the last - particularly deep cut before the winter is associated with varying cutting heights. By no means does every robotic lawnmower have a versatile settings in terms of maximum length. Rather, the cutting height of many models remains limited to 60 millimeters - which is likely to cause problems, especially in the spring if you do not want to resort to the classic manual lawn mower. By choosing a model with a great variety of cutting heights, you are always on the safe side and have the necessary flexibility at any time of the year.

These features depend on your particular garden

While these five features are important for any robotic mower, there are other features that depend on your garden layout.
| | |
| --- | --- |
| Area performance | Depending on the size of your lawn, the robotic lawnmower should have the appropriate area performance to mow the lawn in an allotted time. |
| Gradient | In gardens with slopes, the robotic lawnmower must be designed for the existing slope. |
| GPS-Function | Being equipped with GPS not only improves theft protection but also simplifies tracking in large gardens. Some models even use the GPS to optimize routing, thereby increasing their efficiency. |
| Cutting width | The cutting width is directly related to the area output. Robotic mowers for large areas work more efficiently with a higher cutting width. In small gardens, a narrow cutting width is advantageous so that robotic mowers are as maneuverable as possible. |
| Programmable mowing times | If you want to make your work easier and don't want to always start and stop the robotic lawnmower manually, pay attention to the programable mowing times feature. This way, the device starts and stops its mowing process automatically without any further intervention. |
| 360° or camera sensors | The latest generation of robotic mowers is equipped with an all-around sensor that detects obstacles from a distance or at the slightest touch and changes direction early on. Especially when children or animals are present, this function contributes to further safety during operation. |
You can't avoid analyzing your needs before buying a robotic mower to find a model that best meets your needs. Nevertheless, there are some features that simply every robotic mower should have regardless of the nature of your own garden.